Bravo Cargo 4
| | |
| --- | --- |
| Cargo-carrying capacity: | 200 kg |
| Battery capacity : | 3360 W*h |
| Charger: | Independent-parallel |
| Number of seats: | 4 |
| Maximum speed: | 35 km/h |
| The engine power: | 4 kW |

from 580000 RUR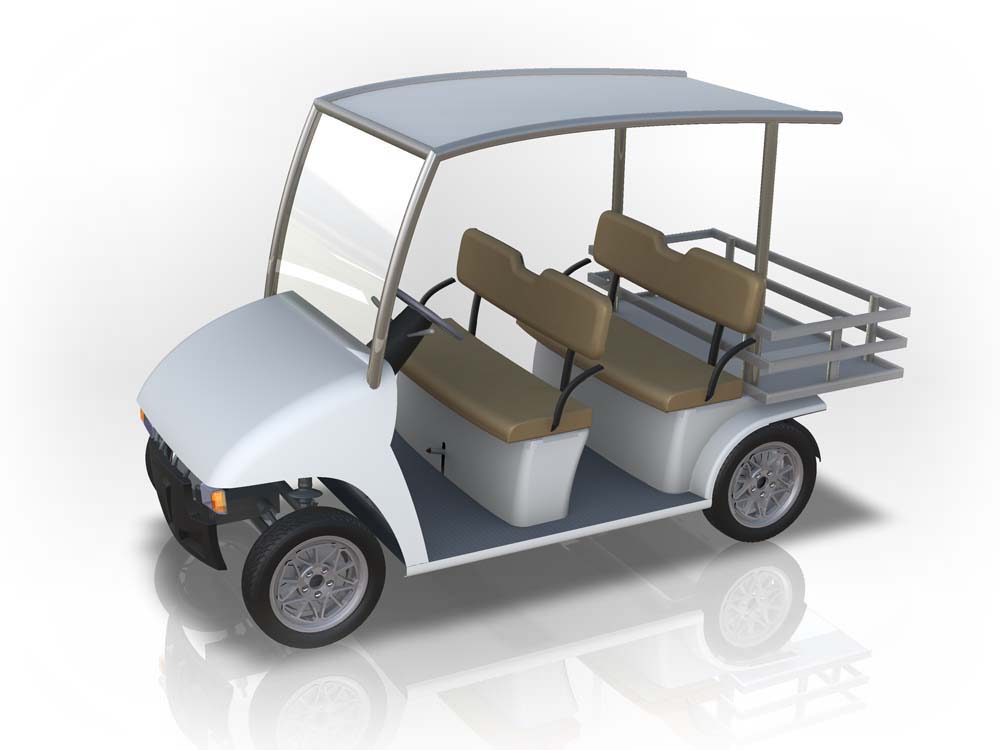 Description
Light economy four-seater cargo-and-passenger electric car with a loading platform for use in club villages, in HCS, hospitality, tourism and recreation.
Electric car is equipped with electronic speedometer with LCD screen and battery charge indicator. In addition, the electric charger is set with a separate charge of each battery, and stabilization and limitation of the charging current and voltage. Universal cable allows you to charge electric car from any 220 volt outlet (power consumption when charging is comparable with the power of a conventional computer and three times less then power of any vacuum cleaner.)
Advantages in comparison with competitors:
The battery life is 1.5-2 times higher than those of competitors through the application of separate parallel charging and battery monitoring system
Attractive price in comparison with European and Chinese competitors
Maximum speed is 20-30% higher
Longer life of the vehicle as a whole
Technical characteristics
Recharge Time to 80%: 8 hours
Overall dimensions (LxWхH): 2605х1360х1765
Rear suspension: Dependent with transverse beam, cylindric springs and hydraulic shock absorbers
Electric motor controller: Microprocessor-based, three phase with sine nanosecond quality output, 300 A
Body: Armed fiberglass composite
Lighting and signaling: Head lights, rear lights, winkers, winker repeaters, emergency light, stop light, horn
Front suspension: Independent McPherson
Power consumption while charging: 600 W
Wheel drive: Front wheel drive with reducer, differential, half-axles and constant-velocity universal ball joints
Running on a single charge: 60 km
Сarriage: Space steel rectangular profiled frame
Steering control: Gear - rackbar drive
Curb weight: 480 kg
Charging method: Standard 220 V outlet
Brake system: Hydraulic, double-circuit, disk front brakes, drum rear brakes, mechanical hand brake
Tire: 145/80 R12
Additional options
Substitution of the middle loading platform to small or large
Loading platform with drop side
Loading platform with the entire sides for bulk cargos
Acryl screen with tinting
Automobile screen with tinting
Rear-view mirror, side-view mirror
On-board socket 12 V (up to 100 watts of consumption) for portable equipment
On-board socket 220 V (up to 100 watts of consumption) for portable equipment
Distance endurance increase from one charging in 1,5, 2, 2,5, 3 times
Set of coasters and containers for tools
Glovebox
Side doors (soft)
Cigarette lighter
Stereo system
Loudspeaker with microphone for a guide
Wheels with discs R13
Hub cap for choice
Corrugated aluminum car interior flooring
Assortment of any RAL color (thousands of colors, shades and effects)
Software-based speed limit
Immobilizer with remote control
On-board computer with LCD screen
Labels and logos on the body
Reviews
Валентин Петрович (05.04.2013, 04:39):
Действительно качественный и шустрый электромобиль, порадовало что по нашим ухабам ездит без проблем и на крутые горки забирается, в отличие от китайцев...